Have you ever seen or heard of someone who has memorized a lot of digits of π? Have you ever tried doing that in your life?
Whatever your answers are, there is another question that is related to all of this: why on earth would anyone want to do that? What is the motivation behind it?
I have a good answer for that.
The Feynman Point.
What? I know most of you are now scratching your head. Well, stop scratching and take a look at what Wikipedia has to say about this:
The Feynman point is a sequence of six 9's that begins at the 762nd decimal place of the decimal representation of π. It is named after physicist Richard Feynman, who once stated during a lecture he would like to memorize the digits of π until that point, so he could recite them and quip "nine nine nine nine nine nine and so on", suggesting, in a tongue-in-cheek manner, that π is rational.
I can't speak for anyone else, but to me, that is one of the coolest [if not the coolest] motivations behind memorizing the digits of π.
So, if you're interested, take out a list containing the first thousand digts of π and start memorizing!
Last but not the least, whenever I write something about the digits of π, I can never resist putting this comic in it. It's funny because it's true!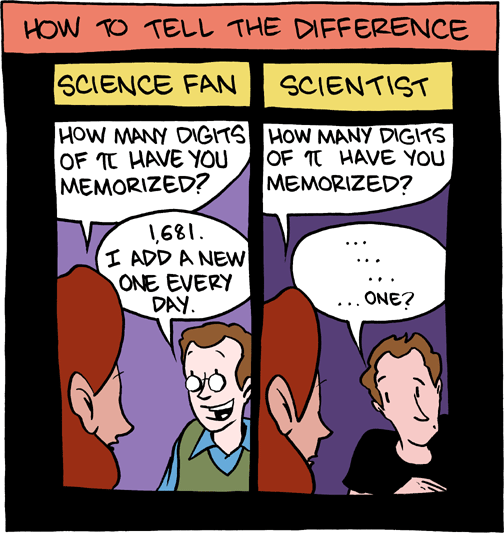 Alt text
---
The comic was taken from here.