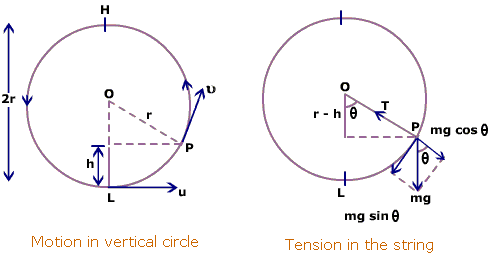 Note: x has been used for the angle with the vertical, measured in anti-clockwise direction.
As shown in the figure, the tangential acceleration at​ is gsinx . Thus, the angular acceleration will be Rat​​ , where R is the radius of the circle. Writing dxωdω​=−Rgsinx​int ∫v/Rω​ωdω=Rg∫0x​sinxdx​Thisgivesω=R2g(1−cosx)​+Rv​2​=dtdx​
Now, I don't know how to integrate this expression between 0to2π, to calculate the time taken for complete oscillation.
So, please help by proceeding from here or if there is any other method to calculate the time period, please mention.
Thanks.