Unsatisfied with blocks of mathematical jumbo theorems and proofs of the limit-definition of derivative? Confused when you plug in numbers closer and closer to the desired value - yet never the value itself - and then your teacher claims the limit is EXACT? Maybe you just have a gut-feeling that it's right, but not a brain-feeling - because the concept was dumped on you as true and correct and you were forced to accept it. Either way, I shall provide a crystal-clear explanation of how and why the derivatives REALLY work - in this episode of Visual Explanations. Let's dive:
---
Δx→0lim​(x+Δx)−xf(x+Δx)−f(x)​
Above lies the ULTIMATE EXPRESSION. We shall now tear it apart and pierce into the heart of Calculus.
---
1. Punching Holes
Remember the holes in functions? What are they and how can we make some for ourselves? If you don't know what holes are, click here. Now let's make some.
We can punch a hole at any desired point A in a function by multiplying the function by x−Ax−A​. This way, at x=A, we get 0/0 - and thus a hole. In a graphing calculator that plots holes, you can draw a bracelet by punching a bunch of holes into x2 ;)
For example, imagine the graph x2−4. Let's punch a hole at x=1. How do we do it? Hole in f(x) at A do (x−Ax−A​)f(x). So,
f(x)=(x2−4)(x−1x−1​)
BOOM! We can keep adding holes - at x=whatever - I just don't have a graphing calculator that plots holes to demonstrate. Hope you get the idea.
---
2. Filling Holes
So why do you begin Calculus with the POINTLESS practice of solving 0/0 limits? Besides sharpening your Algebra, it is to help you conquer the DERIVATIVE. And then, you learn a bunch of differentiation rules, and completely forget about the limit-definition of derivative. Well done, public school systems. So let's fill some holes.
~~~~~Solve:
x→2lim​x−24x4−11x3+8x2−5x+2​
Gotcha here:
x→2lim​x−2(4x3−3x2+2x−1)(x−2)​
And thus the answer is 4(2)3−3(2)2+2(2)−1=23. So who cares? What did we just find? Your teacher will tell you "this is the point the function approaches, but never touches, around x=2." Cool. So? "So, let's take out our calculators and check if this is right. Let's start at x=1.9... ... Now we'll come from the right - start with x=2.01..." ...
In your mind you're thinking "Well alright, we seem to be approaching this particular point. But how do we know if that is EXACTLY what we are approaching? For example, what if it's 22.99999....314159 instead?"
Well it's not. It is EXACTLY 23. How do we know?
We know because someone secretly punched a hole through that function. Yeah - that (x−2x−2​). He's a nasty one. He's a sneaky one. He makes it appear as if everything is alright - all the time - until you get to x=2. Then, you find out that somebody robbed the function! The point is GONE!! So what do you do? You fill the hole. How? By assuming that (x−2x−2​) was never there to begin with. THIS IS THE GOLDEN KEY. All we're doing by getting rid of 0/0 in any function is obtaining the function prior to it being modified on that specific point. Notice if you remove the hole, the rest of the function is 100% the same. Essentially, all we're doing is undoing our little "Punching Holes" operation. Take f(x). Punch a hole through it. Now no matter what, you cannot evaluate the function at that point you punched through. So what do you do? You get rid of the thing that makes the function at that point - the 0/0 - and evaluate it so. Now you know EXACTLY what that function is "approaching" - it is approaching whatever it would be approaching if the hole was not there in the first place. And finding THAT is as easy as following criminal footsteps right to... the criminal ;)
3. Limit-Definition of Derivative
Look up at the majestic expression. Let me put it here again:
Δx→0lim​(x+Δx)−xf(x+Δx)−f(x)​
So notice the first thing - I did not write the expression it its reduced form - that is, with just Δx on the bottom. I ABSOLUTELY HATE WHEN TEACHERS/TEXTBOOKS DO THAT!!! From now on, NEVER write this expression that way! Yuck.
Why the big fuss? Cause - by simplifying the formula, you completely and absolutely obliterate the quintessential key component of the entire expression - the (x+Δx)−x. We thus forget what it actually stands for - which is, the limit expression for the SLOPE OF THE SECANT LINE OF THE FUNCTION! All this is is x2​−x1​y2​−y1​​ written in a fancy form - that's it! But a mere Δx on the denominator just completely scratches x2​−x1​ out of the picture. Unacceptable. See image below:
Now, let us answer the following question:
Why does the limit-definition of derivative expression yield the EXACT instantaneous rate of change / derivative of the function?
First, realize again what the expression stands for: the slope of the secant line of the function between points x and x+Δx. Further realize that the slope of the secant line between any two points is the AVERAGE RATE OF CHANGE of the function between those two points. 1 By letting Δx go to zero, we're aiming for the INSTANTANEOUS RATE OF CHANGE at a SINGLE POINT. At first this seems to even make little sense, but graphically you can see how when Δx approaches zero, and the two points become one, the secant line is now a tangent line and represents the rate of change of the function at the desired point: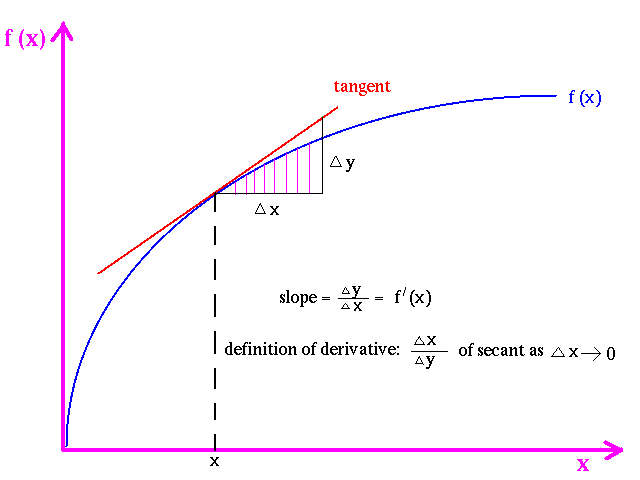 (1-Think of it this way: speed=distance/time. Replace speed with rate of change, distance with change, and time with interval over which change occurs. So, if we cover 4 meters in 2 seconds, we're traveling at 2 meters / second. Or, if our function changes 4 units from point a to point a+2,then the average rate of change between those two points will be 2.)
To REALLY2 understand this, we need to understand the Antiderivative. But that's for the next VE. For now, you get the gist. Back on task. So, why does the formula work? Well, now that we know what the formula stands for, we may put it in its ugly form:
Δx→0lim​Δxf(x+Δx)−f(x)​
If you've ever done derivatives, you know we're looking to factor out Δx on the top and cancel it with the bottom. Ah-ha - we're filling the hole, just like in all other limits, by defining the point of expression with the removal of 0/0! That's it.
Let's re-cap: The expression for the Limit-Definition of Derivative is the one for a secant line, which represents the average rate of change between any x and x+Δx. When we allow Δx to go to 0, we are searching for the instantaneous rate of change of the function at some point x (by just leaving it x, we derive the general expression - the derivative function f′(x) for any x we desire. It is the derivative function.) Initially, we cannot do this because the expression for the slope (the rate of change) is . We resolve this issue by realizing that if we remove ΔxΔx​ from the expression, we allow ourselves to evaluate the expression at that point and get the exact result - as if there were never a hole to begin with in the first place.
That's it.