Reverse transcription is the flow of information from RNA to DNA, opposite the standard process cells use to make proteins. It is a method employed by certain viruses to embed their own genetic information into a host's DNA, effectively hijacking the cell and using its organelles to produce more virus particles rather than proteins. These retroviruses, such as HIV, have the most complex reproductive cycle seen in any class of viruses.
Retrovirus Structure and Reproduction
HIV daughter cells being released from an infected human cell.[1] All retroviruses are coated with an outer layer called a viral envelope. Special proteins on the outside of the envelope bind to receptors on the host cell, allowing the virus to pass into the cell undetected by the immune system. Once the virus has entered the cell, it releases its own genetic material into the cytoplasm of the host cell. Each retrovirus contain two single-stranded RNA molecules, It also contains two molecules of the enzyme reverse transcriptase, which transcribes the RNA template into DNA. This viral DNA then travels into the nucleus of the cell and embeds itself into a chromosome to create a provirus. The host's cellular components then transcribe and translate the new DNA, creating viral particles within the host cell. The viral envelopes are made using the host cell's membrane, and they include proteins specified by the viral DNA that will allow the viral particles to invade other cells. Each viral daughter cell is encapsulated as it buds off, and is then ready to infect another of the host's cells.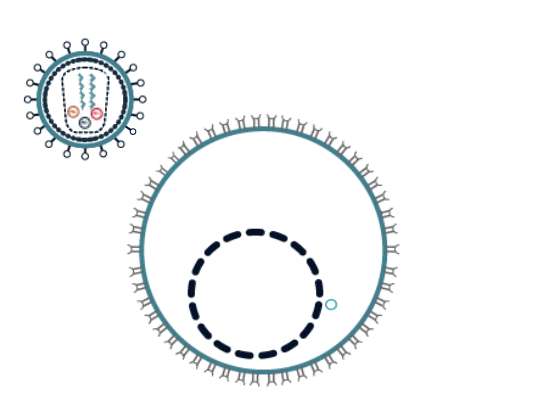 [2]
Reverse transcriptase is present in eukaryotic cells, even when they are not infected with a retrovirus. All organisms have wandering segments of DNA, called transposons and retrotransposons. These lead to repetition of sequences within the genome. Transposons move through the genome either through a "copy-and-paste" mechanism, where one copy is left in the original location, or a "cut-and-paste" method. Retrotransposons always leave a copy at the original site because they are transcribed to an RNA intermediate, which must then be converted back to DNA by reverse transcriptase. Depending on where the DNA inserts itself into the chromosome, it can lead to mutations and chromosomal breakages.
Retroviruses may have evolved from retrotransposons.
The genetic material in DNA and RNA is designed to be copied. This fact can be exploited for medical purposes and crime scene investigations. If the sample is small or of poor quality, new copies can be made of fragments of the DNA or RNA molecule, using the polymerase chain reaction (PCR). PCR is a chain reaction that creates an exponentially growing number of identical DNA or RNA molecules. With DNA , the starting material is double-stranded, allowing for a semi-conservative process similar to that seen in cells, only faster. RNA is composed of a single strand, however, complicating the process.
Reverse transcriptase is used to make a copy of DNA (cDNA) from the existing RNA. The PCR technique can then be carried out on the cDNA.
Steps involved in amplifying RNA using PCR. [3]
[1] Image from https://commons.wikimedia.org/wiki/File:HIVDaughterParticles.jpg under Creative Commons licensing for reuse and modification.
[2] Image from https://commons.wikimedia.org/wiki/File:Hivreplicationcycle.gif under Creative Commons licensing for reuse and modification.
[3]Image from https://upload.wikimedia.org/wikipedia/en/c/c2/Reversetranscriptionpolymerasechainreaction.jpg under Creative Commons licensing for reuse and modification.