is
This is a small excerpt from an essay that I wrote about life in insect world.Just because the biology tag has been activated I decided that it would be a good occasion to share this.This note assumes no prior knowledge of the reader and is mainly based on non-rigorous stuff(can almost be called popular science).I hope you guys will find it interesting.The essay was inspired by the BBC documentary "Life in the Undergrowth" by Sir David Attenborough.
1.Ant farmers
A small insect species called the aphids are extremely vulnerable to their insect predators such as the ladybug.So to protect themselves,the aphids secrete honey dew which is eaten and collected by ants.These ants in turn provide protection to the aphids from their predators.
ing
2.Moth and the pyramidal orchid
As soon as the bernette moth inserts it's long probosis into a pyramidal orchid flower a horse shoe shaped mass of pollen gets attached to it.When the moth goes to other flowers,a speck of pollen is transported and inserted into the flower and hence helping in pollination.Sadly the moth is incapable of getting rid of the pollen mass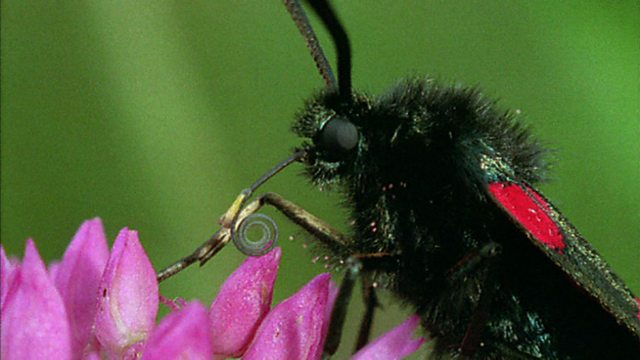 imf
3.Parasitic wasps
The tiger beetle larva is a successful ant hunter.The larva plugs the entrance to it's den by it's head.Any ant touching it's head is eaten up immediately. Methocha is a wingless parasitic wasp which mimics an ant.One of it's main weapons is it'as agility.When the tiger beetle goes for the kill it slips between it's jaws,grabs the larva's soft body and stings it.The sting paralyzes the larva and the methocha lays it's eggs on it's body.Then it pulls the larva down and blocks the entrance to it's burrow to ensure safety of the offsprings.After the eggs hatch the offsprings feed on the beetle larva's preserved flesh!!
jd
4.White crab spider and flower
Flowers generally decorate themselves with bright colors to attract insects to help them in pollination.Just because some insects travel from flower to flower in search of nectar and in turn fertilize them they are popularly called "magic bullets".but insect predators can take advantage of this too.In the picture white crab spider waits in ambush taking advantage of a flower's advertising.
dw