[Warning: This post is quite basic, I mean really basic!]
In an earlier post, we saw a proof without words. On this post we'll see another proof without words. I really loved this when I saw it for the first time and I hope you do too.
Today's topic is really simple: the sum of the angles of a triangle.
We all know that the sum of the angles of any triangle is equal to 180∘. We've all learned how to prove that in school.
Some of you probably tore off the corners of a triangle to verify that in some point in your life [if you haven't done this, try it now!].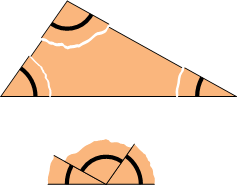 Alt text
But on this post, we're going to do it in a different way, a way that [hopefully] makes us appreciate the beauty in the simplest of things. Let's get on with it!
We're going to start with a question? What does it mean when you rotate some thing by 180∘? If we had a pencil lying horizontally and if we rotated it by 180∘, what would happen?
Alt text
The picture above demonstrates what a rotation by 180∘ looks like. Keep that in mind.
We're going to start by drawing a triangle and putting a pencil horizontally below it.
Alt text
We have to prove that ∠CBA+∠BAC+∠ACB=180∘.
We're going to start by rotating the pencil by ∠CBA.
Alt text
Then by ∠BAC...
Alt text
And finally, by ∠ACB...
Alt text
Now if you compare how the pencil was before rotation and what it looks like after being rotated by the angles of triangle ABC, you'll see that the pencil has rotated exactly by 180∘.
So, ∠CBA+∠BAC+∠ACB=180∘ [Proved without words!].
This just goes to show that you can look at the simplest of things from a different perspective and enjoy the beauty in them.
Now using the same principle, prove to yourself that the sum of the internal angles of a quadrilateral equals 360∘. Turn the pencil around!